A O

Came to Mall of America to buy one of a kind SPECIAL CHRISTMAS GIFT! I made my best friend and her dog and bought the light and it came out Absolutely

… More

GORGEOUS! I'm excited to surprise her for Christmas! Very fast & efficient wait time of 2 hours to be made while you walk around Mall of America! I'll be back NEXT CHRISTMAS!

★★★★★

2 months ago

Braulio Segura

Bought a rectangle crystal and it came out perfect! Great place to come to get a really special present for Their love ones! Highly recommend it

★★★★★

a month ago

Raven Johnson

Absolutely Lovely pieces of art/decor crystals!!! They'll bring attention as well as memories to family and friends always. A variety of shapes and sizes

… More

from 2D/3D to be displayed any and everywhere in home or office. Wonderful staff with quick and great service!!!

★★★★★

2 months ago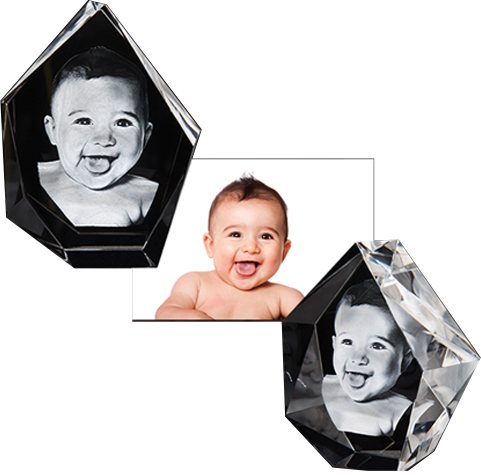 How it works
3D Crystal Outlet is an extension of our store in Mall of America. We are a local small business that masters the art of customer satisfaction and retention by providing the best service possible.
At 3DCrystalOutlet.com we use the best quality optic crystals available in the market and combine them with state of the art green light laser engraving systems to create a masterpiece that is specific to your requirements.
We take great pride in what we do and will guide you through the whole process to help you choose and personalize your unique order. On average we are able to provide same day service for pickup and 24 hours processing time for shipping orders.
Ordering process:
Step 1 – Pick your crystal shape and size
Step 2 – Customize your crystal by uploading your image
Step 3 – Pick your options of text, 2D or 3D
Step 4 – Add it to the cart
Step 5 – Complete your purchase
A 2D engraved image is where the laser prints the image flat inside the crystal. In this process we don't remove any background from the image.
In 3D option the image has the background removed and printed in a way where the image comes to life. It is a 180 degrees print allowing you to view the crystal in two different ways. One is where the image gives a real life look like a statue suspended in mid-air. The other side is a fascinating 3D illusion that the image will follow you whatever angle you view it from.
Remember the quality of the final product is dependent on the quality of the original image. Therefore, when selecting an image ensure that it is the highest quality. Blurry images or cut off faces don't make the best gifts especially when you're bringing the image to life!
Mother's Day is May 9th. Create that perfect picture into a memory and unique gift for mom, grandma, or any special women in your life! @prettygirl_rea
@alyssalorae #mallofamerica #mothersday #mothersdaygift #uniquegifts #gifts #personalizedgifts #smallbusiness ... See MoreSee Less

Load more